Rust removal is one of the most difficult services to get right, especially when dealing with rust stains present on concrete. Fertilizers, irrigation lines, batteries, and some tools and structures that sit for long periods of time can easily cause unsightly rust stains. These stains ruin the look of your expensive property and give off a negative first impression to visitors.
When rust stains become present on your property, there are only a few routes you can take. Attempting removal yourself with the products available to the average consumer is usually underwhelming. Some products may violate local regulations and laws, subjecting you to fees if you are unsure or unaware of them. Different types of rust stains also require different treatment methods, and only a professional will be able to recognize and remove the stubborn rust stains that may appear below the surface. Leaving rust stains be only makes the problem worse. Even if rust stains are barely visible now, they are almost certain to get worse and more apparent over time. Your last option is to call a professional service like Colorado Pro Wash to handle the rust removal process.
Rust Removal with Proper Training and Equipment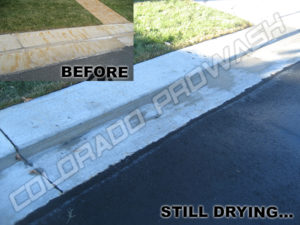 The skilled technicians at Colorado Pro Wash use the latest and greatest techniques and equipment to remove rust stains completely. Colorado Pro Wash technicians undergo continuous training in order to perform superior services that deliver the best results. Our equipment is updated as new technology hits the market, ensuring that you are receiving the greatest level of service currently available. Colorado Pro Wash also cares about the environment and uses eco-friendly chemicals, procedures, and equipment whenever possible. We fully comply with local laws and regulations as well, protecting you and your property. Affordability is a main objective at Colorado Pro Wash, so you will always receive high-quality services at a very reasonable price.
Why is it important to Remove Rust?
Even if your property's rust stains aren't bothering you now, there are a few aspects to consider. The first was mentioned previously, and that is the fact that rust stains will only grow over time. This will make them more unsightly and more difficult to treat. Like most problems that arise on your property, prompt action typically leads to an easier and more desirable outcome.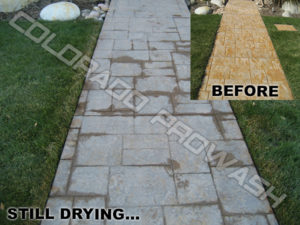 Let Colorado Pro Wash Make Your Property look the Best it Can!difficult to treat. Like most problems that arise on your property, prompt action typically leads to an easier and more desirable outcome. Additionally, prospective customers and business clients hold certain expectations. Rust stains on your structures or  ground concrete give off a negative impression. First impressions may make or break a business deal, and rust removal ensures you are putting your business in its best light. Experience shows again and again that customers prefer establishments that exhibit the results of regular maintenance and upkeep.
Contact us today to learn more about our professional rust removal services. Our skilled technicians will provide the highest level of customer service throughout the entire process. Explore our techniques and pricing plans by contacting us to receive your free estimate. Colorado Pro Wash is happy to address all of your questions and concerns, and we look forward to hearing from you!
Colorado Rust Removal Service Areas
Entire Denver Metro Area and Front Range!
Arvada | Aurora | Boulder | Brighton | Broomfield | Castle Rock | Centennial | Commerce City | Denver | Englewood | Fort Collins | Greeley | Highlands Ranch | Lakewood | Littleton | Longmont | Loveland | Northglenn | Parker | Thornton | Wheat Ridge | Westminster