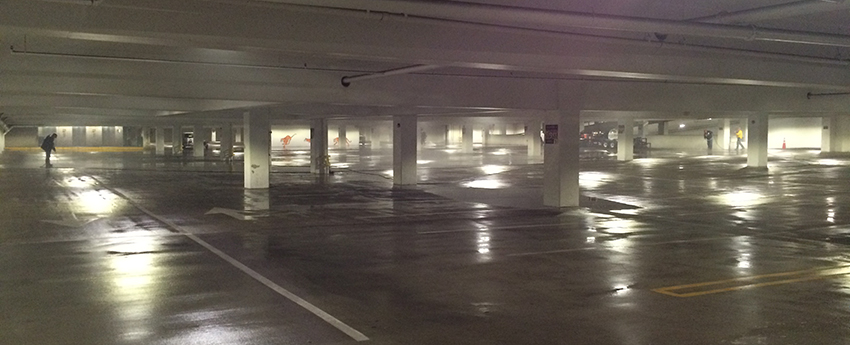 Denver Parking Garage Cleaning
Because of the nature of its use, parking garages tend to get very dirty. It usually comes with oil leaks from cars, gum spits from people, tire marks and so many others. There might even be times when people would urinate or defecate in these parking garages. It sounds gross simply reading it but even more so if you see it in person. Parking garages that are not maintained properly can therefore greatly affect a business and can deter clients expectations from your business or company.
The Effect of a Dirty Parking Garage
The parking garage is among those parts of a business establishment that can get dirty very easily. Parking areas that are not properly cared for can gather lots of soot, dirt, grime and other dirt. These areas may not easily be seen by customers and clients but they eventually will – and you will want to make sure that you have them in the best shape all the time or they can easily turn off your clients. Instead of simply focusing on your interior building tasks, you should also remember that this dark area of your property is also another part that potential customers can have access to.
Well Maintained Parking Garages
First impressions last. Your parking garage may be located in a different part of your business establishment but it is not a reason for overlooking this part of the property. Your clients and customers will not just see your building walls – they will eventually see your parking garage once they get their vehicles in so you might as well put your best foot forward every single time.
Well maintained parking garages can make a lot of difference when it comes to what your clients and customers think. If you have neglected its maintenance works, it will likely send off a negative impression that this part is neglected at their business establishment. You certainly would not want to give them the wrong message.
Professional Parking Garage Cleaning
Our team of professional parking garage cleaners provides top notch services in terms of awning cleaning, building washing, concrete cleaning and so much more. We want to make sure that you always leave the best impression on your clients and customers and this means even through to your parking garage. Call us for help on your garage(s) and we can discuss how we can effectively clean your garage in a way that is safe for you, your employees and the environment.